SESSION IN MUNICH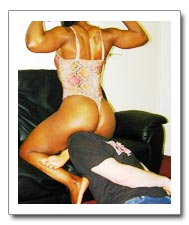 (August 2006, by "slave_to_be_trampled")
Have just met the Goddess in Munchen yesterday on her travels.
Though my nick implies I would roll over, when it comes to fight
sports I try.
From the reviews have read about her, I have learned something: the first 30 seconds she gives you hope. After that you're nothing but a toy at her mercey. Within 20 minutes she had me so out of breath and in pain. Aand I thought I was in ok shape....
The worst part is once I got there, it got worse, with her taunting for me to look at her so she could see my pain. She told me how she controled me my life, my breath and all was true.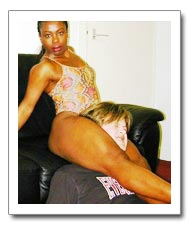 I do not know if I can even count high enough to know how many times she made me submit, trapped in her arms and legs. The biggest problem was that you could never know where she was coming from. She was so fast. If anyone knows of a way that someone could beat her just once, please advice. Tuth be told I dont think I would ever want to beat her. Now I want to belong to her. Am awaiting eagerly already for october when she says she comes back.
Right now all I can do is to regret not having kissed her foot and thanking her for showing me more amazing strength and speed. If you joined this club (Yahoo Group) to find out about her and you're thinking of having a match with her do BUT BE SCARED!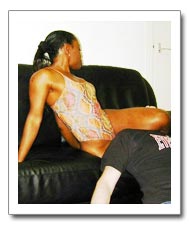 Well, I don't know what else to write right now, butI am awaiting oct and I can't wait to see you again, Ma am. Itwas a great afternoon eventhough you showed me how small I was. Maybe next time I just beg to be at the mercy of your feet. Maybe I will be able to walk upstairs to my room easier...